Illustrations by Advocate Art illustrator Alejandra Barajas and Artistique International illustrators Annie Ryan and Fabien Gilbert. 
Breaking Into Advertising (For Illustrators)
Teacher: Chris Herriott Sales Agent for Caroline Wakeman Literary Agency
There is a mystery and an unknowingness as to what goes on behind the walls of advertising/creative agencies around the world, thus knowing the best way to get noticed by the creative teams beyond the walls is just as mysterious.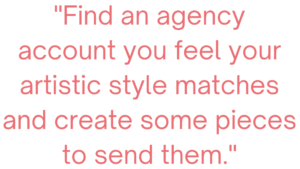 So how do you get recognized? The old cliché of persistence and timing in contacting agencies does go a long way. I would also add consistency to that. By that, I mean consistency in artistic style, so when a creative views new work from an artist they immediately recognize the artist's work.
Understanding who each agency is, what their style is, and a good knowledge of the accounts they hold, are all excellent ways to know who to contact. Having a good appreciation of their work also helps. Deep down we all like being flattered, so congratulating an agency on new work goes further than a cold email. Likewise, knowing when an agency acquires a new client is a great time to contact them. We can't predict the creative ideas they design, but we can be at the forefront of their minds when they think of the right artist to bring their ideas to life.
Make Spec work! Find an agency account you feel your artistic style matches and create some pieces to send them. They will know it's speculative but agencies are busy and often chaotic places, so putting something under their noses that connects with the account they hold does work. I have had success with this so I know this approach works.
You shouldn't be afraid to get out there and connect with agency individuals through platforms such as LinkedIn. It's a great way to learn who is at each agency. Movement within the advertising world is commonplace so connecting with them helps track their current placement. They should happily connect with you, as it's their job to know talent and how to contact them. Strangely many agencies often go directly to the artist rather than the agency they are represented by, so including your agent's details on your LinkedIn and other social media platforms is a very good way to provide all the needed contact details.
Knowing who the commercial directors are is also a good area to gain knowledge. As it's not only billboard campaigns that come out of advertising agencies. Yes, these are still big businesses for agencies, but illustration is now crossing heavily in TV commercials. Directors have agents just as illustrators do, so knowing these directors and sending them work will inspire them when writing directorial briefs to the creative approach designed by the agencies.
You can do all the above but it does come down to persistence and more importantly, timing. Work we do daily as agents. Knowing when an agency traditionally plans for a campaign and making contact ahead of the curve gives you the chance to get their attention. That might be the most important thing, GET THEIR ATTENTION! Keep your emails short and sweet (remember they're busy) and let your work do the talking.
Lastly, be bold. Ask for a meeting. Create a dialogue so you will be remembered and be the hero they need when they next present an idea.
For more free tips for how to improve your illustration portfolio, subscribe to our ITSme Learning Newsletter!