Illustrations by Advocate Art illustrators Aditi Kakade Beaufrand, Anuki Lopez, Fabiana Attanasio, and Beatrice Tinarelli, and Astound US Inc. illustrators Joel and Ashley Selby.
Celebrations to Include in Your Portfolio Part 3
Teacher: ITSme Society
Who doesn't love a celebration! As we talked about earlier in this series, books that celebrate a special occasion or seasonal event are incredibly popular. Publishers usually have a rough brief in mind, and are looking for artists that already have examples of what they want. We have put together another list of celebrations you can draw inspiration from. Take a look at part 1 here or part 2 here.
Using your own culture or traditions of these celebrations can enrich your illustrations. Although we know our own holidays and celebrations well, all cultures are enriched with unique and beautiful traditions of their own. Gaining an understanding of traditions around the world can help you gain inspiration and enhance your illustrations.
Diwali
Diwali holds a deep symbolic meaning for many cultures and signifies the triumph of good over evil, light over dark. As the lights begin to dim outside suburban town roads, candles and lamps shimmer and glow. Leave all worries of sickness and strife behind and illustrate the sky with a spectrum of colors cast by lanterns and fireworks. This idea of light conquering dark conjures a magical feeling of optimism, transforming the dark, heavy weight of iron into the sparkling gold of a brighter future. Take this as an opportunity to explore contrast and light within your scenes, unconventional lighting can frame your scene, or add silhouettes and prominent shadows. Don't forget how useful these are as storytelling devices!
There's a lot to explore on All Hallows Eve, from the flame that casts the bold silhouette of a meticulously carved pumpkin to the comically ill-fitted costumes as you open the door to tiny trick or treaters. Who doesn't love to draw all things spooky? Think carefully about what sweets you'd love to find inside the cauldron shaped buckets and just how quickly your characters can consume them! The 'Monster Mash' thrums through houses that are decked out in cobwebs and skeletons for the spooky season. A chilly autumn wind floods inside whenever another guest enters the halloween party. Who doesn't want to take this chance to draw ghosts dancing beside witches, who mingle with vampires, and share snacks with superheroes? Perhaps you prefer a quieter night in, handing out bags of sweets and cuddling up behind cushions as you watch classic jump-scares that never fail to get the heart thumping. Make sure to blow the candles out after you wrap up the grizzly tales and try to fall sound asleep.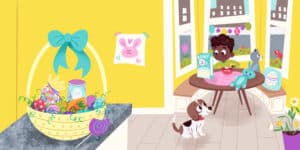 Channel your characters' crafty side as they decorate elaborate eggs in the lead up to Easter. Use this celebration as an excuse to draw the cutest pictures of springtime that you can imagine: baby animals with big eyes, fluffy coats and soft feathers. Perhaps the kids leap out of bed frustratingly early, much to their parent's dismay. Furrowing their eyebrows and resembling Sherlock Holmes as they decode the riddles left by the Easter Bunny, grabbing the wicker basket to search high and low on the annual egg hunt – make sure to explore some obscure angles as they rummage in all the good hiding places. Perhaps you could draw the scene from inside a cupboard as a child swings the door open and, with a face filled with joy, calls out, "I found another one!" Collapsing in a heap of giggles, as the traces of frankly excessive chocolate consumption around their beaming faces add to the recipe for another year of springtime memories.
For more free tips for how to improve your illustration portfolio, subscribe to our ITSme Learning Newsletter!