Illustrations by Advocate Art illustrators Signe Gabriel, Kaja Kajfež, Laura Borio, Lia Visirin, Laura Vitória Jäger, Vlad Stankovic, Yayo Kawamura.
International Trends: The French Book Market
Teacher: Alice Morentorn, Illustration Agent at Advocate Art 
As with food and culture, the book industry in our world can be very different from one country to another.
While for obvious size and market reasons, the USA usually goes with a more mainstream or mass market approach, Europe shows a somewhat more "artsy" one, and France is no exception!
The French book market is a huge one compared to the actual country's size, and Children's books are a big part of it.
It mostly started with the engravings of Charles Perrault fairy tales by Gustave Doré in the 19th century, quickly followed by illustrated family novels such as "Les malheurs de Sophie" from la Comtesse de Ségur, until last century when comic books appeared and became extremely popular throughout the household. Tintin, Asterix, Thorgal, and Lucky Luke are heroes throughout generations.
Hence, illustrating books in France was not only a matter of "appealing" to children BUT appealing to the whole family, or even sometimes mainly to adults.
As a result, if illustrated books in France are FOR children, they, importantly enough, have to appeal to the artistic sensibility of grown ups. This process starts with the Art Directors who are in charge of spotting the new trendy artists or the most perfect style for each project.
It leads the French children's books market to be overall very trendy, artsy, and daring. Some choices are strong and carry some real artistic expressions. It is not uncommon for children's book artists to have their own exhibition in Art Galleries where you would mostly meet adults scrutinising the details or being moved by some specific pieces.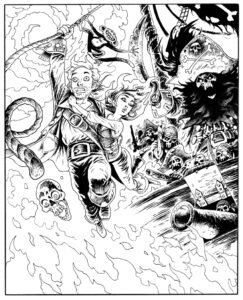 Often, books are very original in either framing or technique. A feeling of real paint and traditional art is a must, as we can see in the work of Frederic Pillot or Rebecca Dautremer. Mixed media where paint, coloured pencils and collage are involved, such as in Beatrice Alemagna's books, are very popular.
Digital art with either a very sensitive approach or a very graphic one is also trendy. With bright simple shapes like those of Georgette for toddlers, to darker illustrations with lines and a gouache feeling like Julià Sàrda's ones. Watercolour and bright illustrations are always a must, following Quentin Blake's footsteps (see Eglantine Ceulemans or Julien Arnal's books.)
At the moment, we can see a new trend emerging with the comeback of dark outlines.
In the mere format of books too, something new is coming up: with the success of comic books for children, the boundaries between picture books and graphic novels are crumbling and we can now see a new format emerging where the illustrator seems more inclined to switch from comic strips to full page illustrations to vignettes, all in the same book.
As for the themes, those are mostly shared at least throughout Europe, if not worldwide. We can see a lot of nature / environment based stories or books, a lot of "being different" or minorities inclusive books, Young Adult novels that require beautiful fantasy covers or books on non-fiction themes with an artistic touch and a leading story to make it more appealing to children. Poetic sensitive stories about growing up are also very popular as they can carry this peculiar echo out and, alongside the chosen artistic touch of the illustrator, transform a children's book into a unique oeuvre d'art.
Here at Advocate-art, we are proud to represent some wonderful unique artists that will most certainly be joining the French book community soon, such as Blanca Millan, Signe Gabriel, Catalin Ardeleanu, Lukas Thelin, Laura Borio, Petros Bouloubasis, Laura Vitória Jäger, Vlad Stankovic, Lia Visirin, Yayo Kawamura or Kaja Kajfež to name a few.
For more free tips for how to improve your illustration portfolio, subscribe to our ITSme Learning Newsletter!