Pictured: Astound US Inc UK Manager, Rosie Barlow (left) and Global Manager Kate Powell (right).
Press Release:
Illustration Agencies on Forefront of Protections
Against an AI Generated Visual Future
London, New York, LA & Singapore: ITSme Society Agencies announced their new Protection Against AI clause.
All of the ITSme Society illustration agencies have now implemented a brand new clause into their publishing contracts to protect the rights of illustrators' original illustrations against reproduction and/or otherwise use of their works in any manner for purposes of training and Artificial Intelligence/ML models.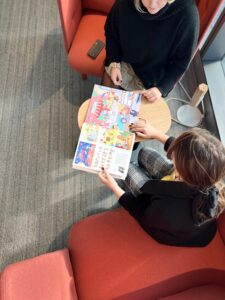 These agencies include international illustration agencies Astound US Inc, Advocate Art, Yeon Agency, Artistique Int, and Illo agency. Based everywhere from New York to London, LA to Singapore, these agencies represent the illustrators of continual best selling and celebrity titles (including illustrating Mariah Carey, Sir Lenny Henry, Ant & Dec, Julie Andrews, the Dalai Lama and many more), and also work regularly with all the Big 5 publishers. The agencies' goal is to be at the forefront of protections in the fight against an AI generated visual future.
The clause states that the illustrator must give prior consent to permit the client/publisher to use technologies that are capable of generating works in the same style or genre as their work. Our aim is to get ahead of these advancing technologies and to protect the artists and their artwork against the use of AI/ML models.
The clause pertains to all represented illustrators work, in hopes to help secure the economic future of illustrators, and individual artistic voices across the industry. Getting ahead to preserve the ability to have individual humans create new aesthetics, with their own unique visions, is of the utmost importance as we venture into an AI focused future.