Back to News
Themes to Include in Your Illustration Portfolio Part 3
Published on 08/09/2023
Themes to Include in Your Illustration Portfolio Part 3
Teacher: ITSme Society
Books are one of the most accessible forms of escapism. And you have the power to help readers explore a range of worlds with your illustrations. In this series, we will explore the many themes publishers may be searching for when looking for illustrators. If you already have a theme you're passionate about, play to your interests. Remember that illustrators often get work because they are simply good at illustrating a certain genre.
Lions and tigers and bears, oh my. Animals can make for a great theme to explore in your portfolio. Curl up at the window with a cat, take a walk with a dog, and explore the bottom of the bowl with a fish. These common animals can be a lot of fun to draw, but also consider uncommon or even mythical animals. Children love dragons and unicorns, but what animals haven't they seen or heard of yet?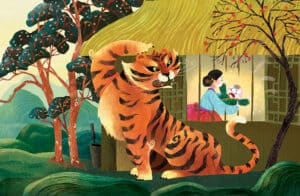 Illustration by Illo Agency illustrator Pham Quang Phuc
Animals are so popular in children's books; personified or anthropomorphized animals have previously been used as protagonists and have helped authors and illustrators explore a range of sensitive issues in a delicate manner. They can also make great sidekicks to your protagonists and drawing the interaction between pet and owner can add more depth to your illustrations. Different locations are home to a variety of animals, perhaps a cat and new puppy unleash mayhem on the house when their owner is at work, or the local hedgehogs, foxes, birds, and squirrels are on their way to a woodland picnic party. Maybe your story is set in a Sahara Waterhole, home to an awkward crocodile who befriends a cheeky elephant – make sure to explore the animal's personality and how they interact with the space! Observe their varied weight as the elephant cannonballs into the water, unleashing a tidal wave for the crocodile to surf upon!
For more free tips for how to improve your illustration portfolio, subscribe to our ITSme Learning Newsletter!