Trendspotting for the Greeting Card Market
Teacher: Amanda Hendon, Global Manager, Advocate Art
Today we hear from the Global Manager of Advocate Art, Amanda Hendon, about how to spot trends in greeting cards. It is important to keep your portfolio on-trend, to show your understanding of the market, and keep people's interest. Be careful too, not to get too far ahead of the trends. 
At a first glance, trying to identify what's on trend can be very intimidating. You may find yourself wondering how do I identify what's the next big thing, and moreover, how do I know if I'm right?
Well, to start, don't doubt yourself! Trend spotting is partially about understanding the market, but also partially about trusting your own intuition. As an artist, you're a visual person, so aesthetics and trends are basically your second language. However, for those struggling with where to start, I say: hit the shops!
As the ever-wise Miranda Priestly said during her iconic cerulean sweater monologue in "The Devil Wears Prada", everything stems from haute couture and influences all other aesthetic fields: ready-to-wear, home decor, and of course the topic of our trend spotting, licensed goods!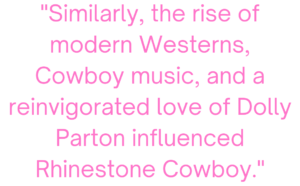 All this to say: you need to reference things beyond the product you're designing for in order to get the full scope of what's trending. After all, if something's already on a greeting card, the trend is already in the market. My typical routine is to pop by my favorite clothing and home decor stores, take pictures of anything that catches my eye, and then of course reference stationery stores as well. If you have the opportunity to attend, trade shows are also an excellent way to get a leg up on trends. They are literally selling goods before they go to retail, so it can give you a great overview of what's to come in the market.
From there I sift through all my photos and try to parse out if there is a specific color that is dominating the scene or icons that jump out at me and are repeated throughout the various stores I've visited. Whilst I think it's definitely easiest to see trends through in-person comp shopping, I also think the internet is a great supplementary source for trend research as well, particularly platforms like Pinterest and Instagram. However, make sure you're understanding the larger scope of things, and avoid looks that fall into niche micro-trends.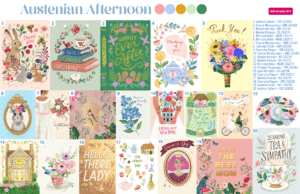 The final step is to consider what's happening in the general cultural zeitgeist of the year. Just as with fashion, general pop culture influences visual trends. For example, I was struck by the ubiquity and popularity of Cottage Core across many platforms, as well as the rise of Regency-era media such as Bridgerton and Emma, and thus Austenian Afternoon was born! Similarly, the rise of modern Westerns, Cowboy music, and a reinvigorated love of Dolly Parton influenced Rhinestone Cowboy.
Once you've taken the above into consideration and done the research, you should have collated a folder of images that will help you determine what trend you want to focus on. From there it's just putting these images together into an aesthetically pleasing moodboard, and then boom! You've defined a trend, and can thus start creating designs from a well-informed, well-researched foundation. Happy trend hunting!
For more free tips for how to improve your creative design skills subscribe to our ITSme Learning Newsletter!